for mobiles, hold your phone in 'landscape mode' for better display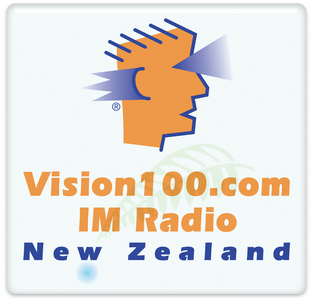 | Home / Listen | Contact |
31 December 2000 -
Our Top 100 chart/plays for 2000 is officially released. Number 1 - 'Bad For Me' by Splitter. 2 - 'Winning Numbers (Changing Places)' by The Mutton Birds, 3 - 'Part Of Me' by Stellar, 4 - 'Hibiscus Song' by Greg Johnson, 5 - 'Landslide' by Breathe, 6 - 'Mad About The Boy' by James Hall (featuring Ce Soir), 7 - 'Underwater Mountain' by Tim Finn, 8 - 'Switch Off' by Liquidelerium, 9 - 'Summer Comin'' by The Holidays, 10 - 'I Sort Of Love You' by Handsome Geoffery.
01 December 2000 -
VISION 100 is mentioned by New Zealand's 'Loop' magazine December 2000 issue 'Big Ups - Roll of Honour' feature. http://www.loop.co.nz
28 November 2000 -
Peter Sinclair's article in The New Zealand Herald newspaper, titled "Turn on, tune in at cyber-dial", says "Enough Kiwi music to satisfy a Labour bureaucrat can be heard at Palmerston North's Vision 100". http://www.nzherald.co.nz
11 May 2000 -
Murray Cammick heads out of Auckland, heading to Palmerston North with bands D-Super (Wellington) and Stayfree Carefree (Auckland). Murray, band members, and staff from VISION 100 meet each other for the first time then enjoy the two late-night gigs at Harvesters, Palmerston North.
08 January 2000 -
Listener magazine (New Zealand), for TV & Radio since 1939, reports on the VISION 100 project under 'Radio Best.' http://www.listener.co.nz
01 January 2000 -
Because of VISION 100's 'New Zealand' location/time zone, i.e. New Zealand is the first country in the world to see the first light of the year 2000, VISION 100 is the radio station on Microsoft's Radio page - http://windowsmedia.microsoft.com/radio - to hit the year 2000 *first* and VISION 100 also retained the title of being the only New Zealand radio station on Microsoft's Radio page.
Years: '17 - '16p2 - '16p1 - '15p2 - '15p1 - '14 - '13 - '12 - '11

'10 - '09 - '08 - '07 - '06 - '05 - '04 - '03 - '02 - '01 - '00 - '99
UCA © VSN